Department Address
6th Floor, Department of Earth and Space Science (Building F), Graduate School of Science Osaka University
1-1 Machikaneyama-cho, Toyonaka-shi, Osaka 560-0043, Japan
Nearest Train Station
Shibahara-handai-mae Station, Osaka Monorail
How to Get to the Train Station
From Shin-Osaka Station
Shin-Osaka
Osaka Metro Midosuji Subway Line (15min, 330yen)
Senri-chuo
Osaka Monorail (6min, 250yen)
Shibahara-handai-mae
From Osaka International (Itami) Airport
Osaka Airport
Osaka Monorail (6min, 250yen)
Shibahara-handai-mae
From Kansai International Airport
Kansai International Airport
Airport Limousine Bus (aprrox.70min, 2000yen)
Osaka Airport
Osaka Monorail (6min, 250yen)
Shibahara-handai-mae
From Kyoto
Kyoto-Kawaramachi
Hankyu Kyoto Main Line (330yen)
Minami-Ibaraki
Osaka Monorail (18min, 410yen)
Shibahara-handai-mae
From Kobe
Kobe-Sannomiya
Hankyu Kobe Main Line (390yen)
Juso (transfer)
Hankyu Takarazuka Main Line
Hotarugaike
Osaka Monorail (3min, 200yen)
Shibahara-handai-mae
Rough Map (jpg)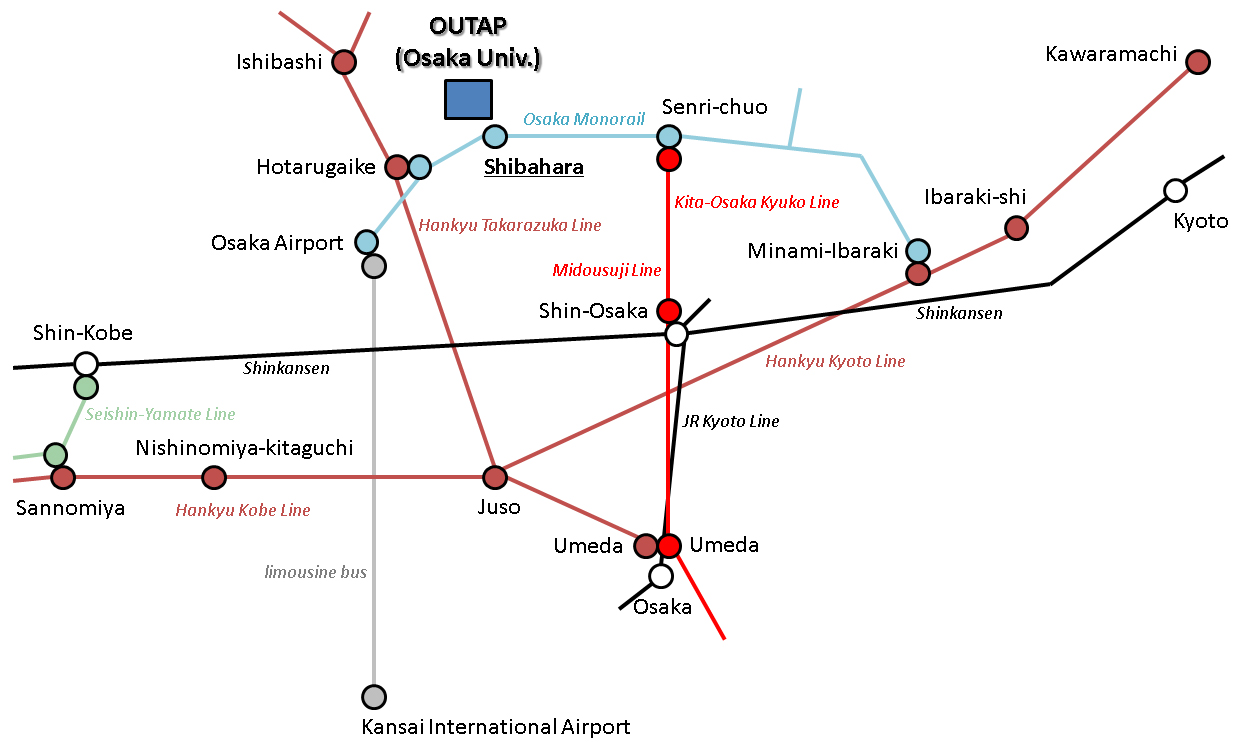 How to Get to the Department
After getting off at Shibahara-handai-mae station, walk uphill along the monorail in the direction of Hotarugaike and Osaka Airport.
The main gate of the university will appear on your right at the intersection of "Osaka University Mae Kita" at the top of the hill.
Enter through the main gate. The first building on the right is Building F, where the department are located.
Map
Rough Map to Shibahara-handai-mae Station (jpg)
English
Rough Map from Shibahara-handai-mae Station to the Department (jpg)
English
Toyonaka Campus Map (pdf)
Accommodations